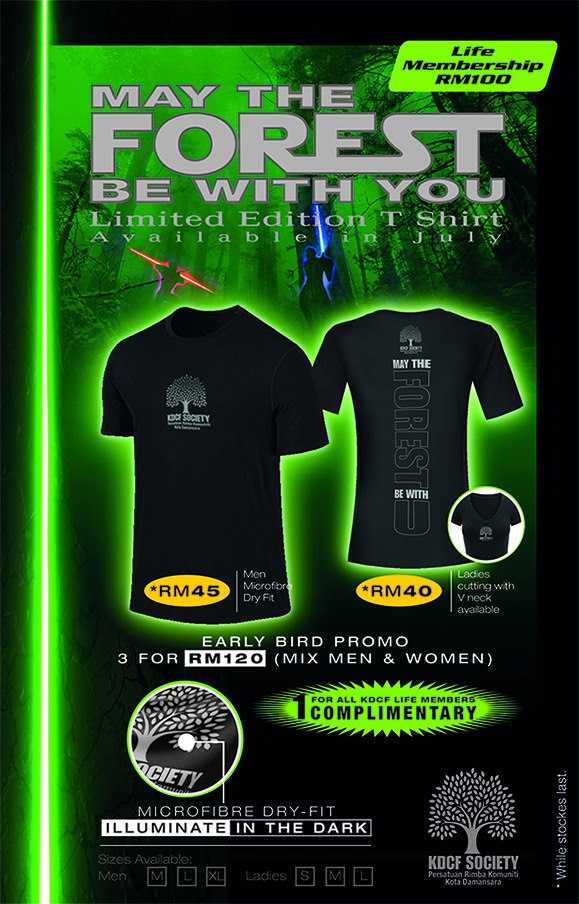 KDCF Society has come up with a playful take on being a part of our amazing KDCF community. These sporty dryfit "May the forest be with you!" tshirts are now available! This is a Limited design, so do email us to place your order at info@kotadamansaraforest.org. There are different men's and ladies cuts and they come in a range of sizes, but only in black for now. The ladies fit tees are RM45 and the men's ones are RM40. You can team up with your friends and get three for RM120! Did we mention that these tees glow in the dark!
As part of our membership drive we are giving a KDCF t-shirt to everyone that registers as a KDCF Life Member for a one-off membership fee of RM100. You can register as a KDCF Member here and bank your funds into our official account (Persatuan Rimba Komuniti Kota Damansara Selangor CIMB 8003625854). Email us with your payment slip, full name, ic no., and mobile number.
And that's it! No more renewal hassles. And you will have the satisfaction of being part of a game-changing, forest-stewarding community. Your contribution will help us sow the seeds for sustainability as we begin to strengthen our organization for greater service to our community and impact in the Klang Valley.
Those of you that have already signed up as Life Members, thank you for your support! We will be contacting you with information on how to collect your Life Member packages once the t-shirts have been delivered.
Many thanks to Wilson Lim for the design!